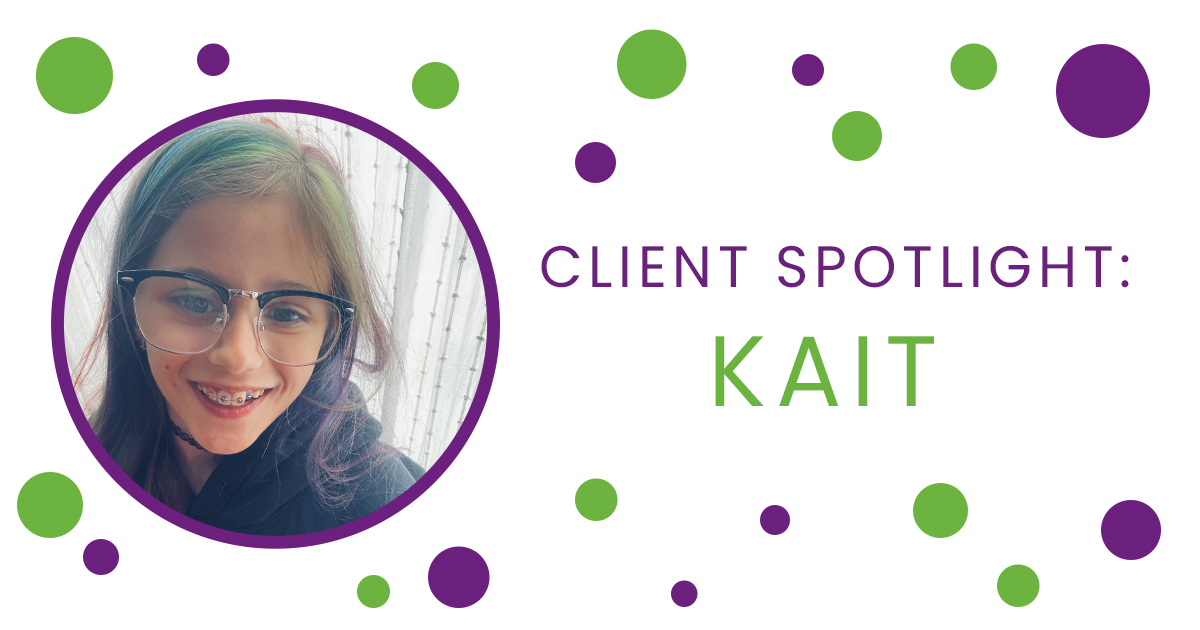 My name is Kait, and I am in fifth grade. I love cheerleading, my friends, horror movies, and pigs. I also have epilepsy. My epilepsy story started when I was in second grade. I had moved to a new school (I was very excited) to start French Immersion. My new teacher and I struggled to get along. She continuously said that I wasn't paying attention, I needed instructions repeated, and always looked as though I was off in my own world. Truthfully, I was working as hard as I could, and her comments made me very sad. A few months into the school year, when the snow came, I was lining up to go in for recess. I don't remember how I fell, just that I fell hard. I ended up with a concussion and was out of school for a very long time. In March, I was placed in an afterschool program for kids who had been off school for long periods of time. You get to work one to one with a teacher. I did that twice but, on the second day everything shut down because of COVID. The next few months were kind of blurry between COVID, online schooling, and moving back to my old school.
The following September I started grade three. That year in February I got my second concussion. My doctor at that point had said that it wasn't normal for a kid to keep falling the way I was. So, he sent me for an MRI and an EEG. Both tests were really far behind so it wasn't until that summer that I would have my MRI (it came back normal) and in October of my grade four year that I would finally have my EEG. By this point I had fallen a few more times and began to really struggle in school. It was hard for me to make friends because kids thought I wasn't paying attention to them as I couldn't remember what they said. Mainly I just walked around alone and tried my best with my schoolwork. The night of my EEG my mom let me stay up all night. We watched horror movies, ate junk food, and painted nails. The next morning, I was so tired I fell asleep while I was having the EEG done. We were told that it would be two weeks to get any results. The next day however, my mum got a call and was asked to bring me right into the doctor's office to discuss the EEG.
I was diagnosed with Generalized Epilepsy after that (mostly I have absence and atonic seizures). I started my first medication and saw a neurologist within a week. That is where we were introduced to the people at Epilepsy Southwestern Ontario. They've been great. They helped mum and me understand what was going on with me and how to best take care of me. Whenever mum had a question, they were there to answer. The best part is that they helped me tell my story to my classmates last year. It made me feel less on the outside. They have camps in the summer and lots of chances to get together with other kids who have epilepsy as a part of their story as well. This made me feel less alone. If I could say anything to kids who are walking a similar path to mine it would be to take it a day at a time. Accept help even when it's hard. Epilepsy doesn't define you, it's just a part of the whole amazing package that makes you wonderful.