Windsor's 5th Annual Seize the Day
5k Run / 2.5k Walk Goes Virtual!
September 24-26, 2020
Buy Your Tickets for our Online 50/50 Raffle Today!
Proceeds from this online 50/50 raffle will help provide education, advocacy, information and support services to the almost 95,000 people living with epilepsy and their families in Ontario.
London's 8th Annual Seize the Day
5k Run/ 2.5k Walk Goes Virtual!
September 24-26, 2021
Online Mindfulness Program
Participate in a research study providing an online, 8-week mindfulness-based program which aims to improve stress, help you cope with big emotions and build resilience within the family.
For children (aged 4-10 years) living with epilepsy and their parents.
Email for information: [email protected]
Epilepsy Southwestern Ontario enhances the lives of people who are affected by epilepsy by providing a network of services that educate, support and build community awareness.
We provide services tailored to individual needs and are dedicated to being inclusive and collaborative.
Vision
We strive to create a community free of barriers for persons affected by epilepsy.
Mission
We provide a network of services that educate, support and build community awareness.
Support Epilepsy Southwestern Ontario
There are approximately 300,000 Canadians living with Epilepsy
Donate Now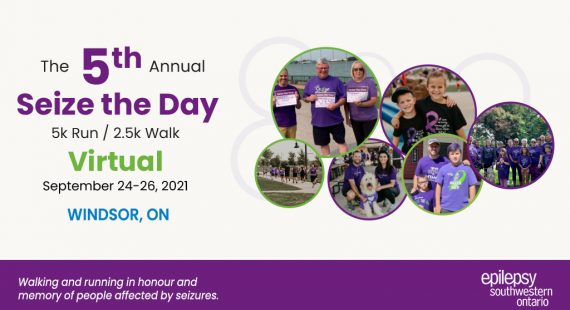 Seize the Day Your Way! The 5th Annual Seize the Day Event Takes on Epilepsy…
Details
Get ready for Halloween by participating in the Purple Pumpkin Project. We encourage you to decorate your pumpkin purple and…
Read more
Christmas wouldn't be the same without chocolate! Fill your stockings with Rheo Thompson chocolate and mint smoothies, while supporting individuals…
Read more
Volunteer With Us
The hard work and dedication of our volunteers make our major events so successful, help keep the office running smoothly and allow us to continue to provide programming. We are always looking for volunteers to help support our agency. Please contact us if you are interested in volunteering.
Learn More