Ghouling Pianos
This Halloween themed piano show is an interactive all-request event, featuring a selection of your favourite hits. Enjoy your requested songs played live by world class entertainer, Joe from Main Street Dueling Pianos, plus some fun Halloween games included throughout the night.
Friday, October 29, 2021 from 7pm – 9pm, virtually
Share Your Love of Chocolate and ESWO
25% of proceeds will be donated back to ESWO
Order deadline: November 16, 2021
Pickup of orders will be available starting December 3, 2021
Purple Pumpkin Project
Participate in the Purple Pumpkin Project to help raise awareness about epilepsy. When someone asks "why is your pumpkin purple?", how will you answer? Do you have a personal connection, are you living with epilepsy yourself? Whatever your reason, we hope you will share your personal story and help spread epilepsy awareness.
Use the hashtag #PurplePumpkinProject2021, tag @epilepsyswo in the photo or email to [email protected] and we will be sure to share them!
Online Mindfulness Program
Participate in a research study providing an online, 8-week mindfulness-based program which aims to improve stress, help you cope with big emotions and build resilience within the family.
For children (aged 4-10 years) living with epilepsy and their parents.
Email for information: [email protected]
Epilepsy Southwestern Ontario enhances the lives of people who are affected by epilepsy by providing a network of services that educate, support and build community awareness.
We provide services tailored to individual needs and are dedicated to being inclusive and collaborative.
Vision
We strive to create a community free of barriers for persons affected by epilepsy.
Mission
We provide a network of services that educate, support and build community awareness.
Support Epilepsy Southwestern Ontario
There are approximately 300,000 Canadians living with Epilepsy
Donate Now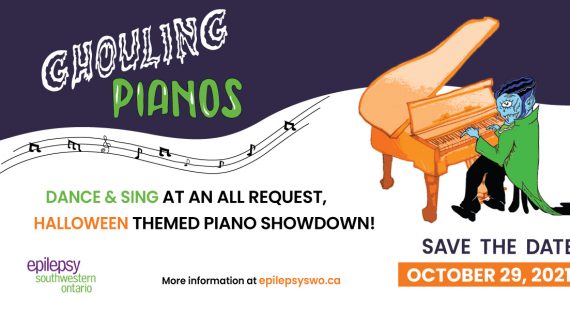 Join us virtually for our 5th Annual Ghouling Pianos event. This Halloween themed piano show…
Details
It's hard admitting to yourself that your son was really tormented by his illness (epilepsy). Our son had his first…
Read more
We would like to extend a heartfelt thank you to everyone for their contributions and continued support of our Annual…
Read more
Volunteer With Us
The hard work and dedication of our volunteers make our major events so successful, help keep the office running smoothly and allow us to continue to provide programming. We are always looking for volunteers to help support our agency. Please contact us if you are interested in volunteering.
Learn More