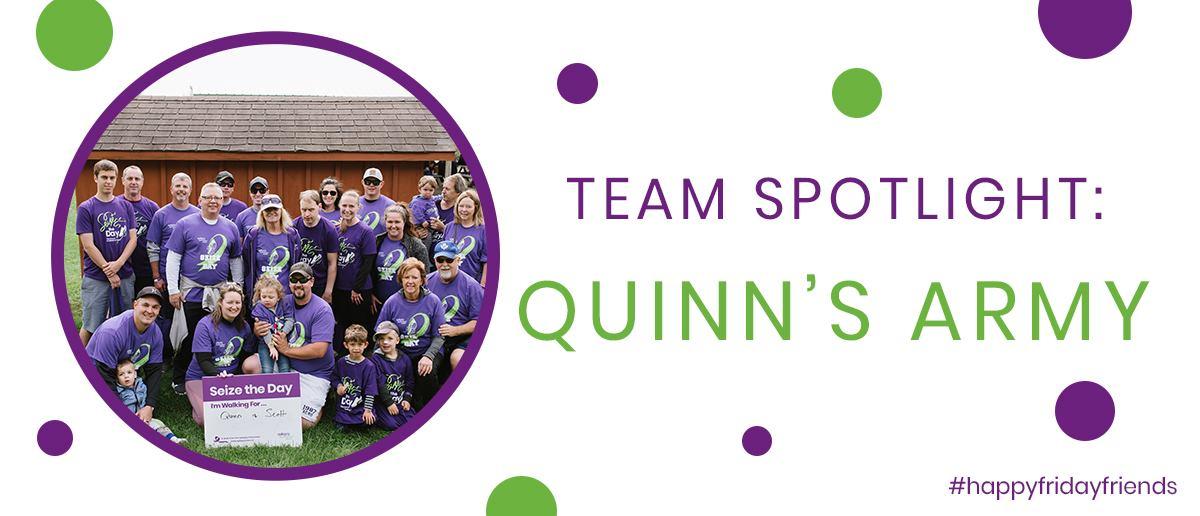 Happy Friday, Friends! Today we are bringing you a Seize the Day Team Spotlight! Quinn's Army raised an incredible $7,135 for last year's run. We are still beyond impressed!
Quinn's Army is composed of friends and family of Quinn Cook and Scott Sheriff. Quinn is a 4-year-old girl who began having Infantile Spasms at 13 months old. Despite countless medications and treatments, at age 3 she was diagnosed with Lennox-Gastaut Syndrome. Both are catastrophic forms of epilepsy.
Scott Sheriff is a 34-year-old who has struggled with epilepsy his entire life. These two families were brought together by Quinn's grandmother, Sue Cook who formed Quinn's Army.
Quinn's army is on a mission to educate anyone who will listen about epilepsy. Quinn's Army supports the people we know who live with epilepsy, their families, and the epilepsy community as a whole. Epilepsy Southwestern Ontario's Annual Seize the Day Event is just one way to accomplish this.
The Seize the Day event gives ESWO's service users a chance to give back to the organization that educates and supports our children, their families, schools and community. Quinn's Army is acutely aware of the funding structure necessary to run ESWO and how imperative fundraising is to ensure this fundamental service continues to operate.
Moreover, Seize the Day is a chance to celebrate our extraordinary epilepsy warriors. They live their lives in a constant state of unknown, in a world that lacks understanding of the accommodations necessary to create inclusion and equality. Seize the Day provides the opportunity to be surrounded by people who have insight into the difficulty of living with epilepsy. There is a sense of community and camaraderie at the event that cannot be replicated. While we cannot be together this year, Quinn's Army will continue to make every effort to put this event at the forefront of our social media platforms, raise funds and walk/run in honour of Quinn, Scott and everyone struggling with epilepsy.
When asked for encouraging words for members of the community, Quinn's Army struggled…because, what do you say? Epilepsy sucks! However, ESWO is great! So please, during the weirdest times of our lives, take time to hold your warriors a little tighter, raise awareness and most importantly MONEY! This enables the wonderful team to continue to support families, individuals, run Wacky Wednesday, the youth mental health program, educate teachers, schools and the community as a whole.
— Quinn's Army 💜
Register for the 7th Annual London Seize the Day here: http://ow.ly/mmhX50ABrLN
Register for the 4th Annual Windsor Seize the Day here:
http://ow.ly/84y850ABrLK