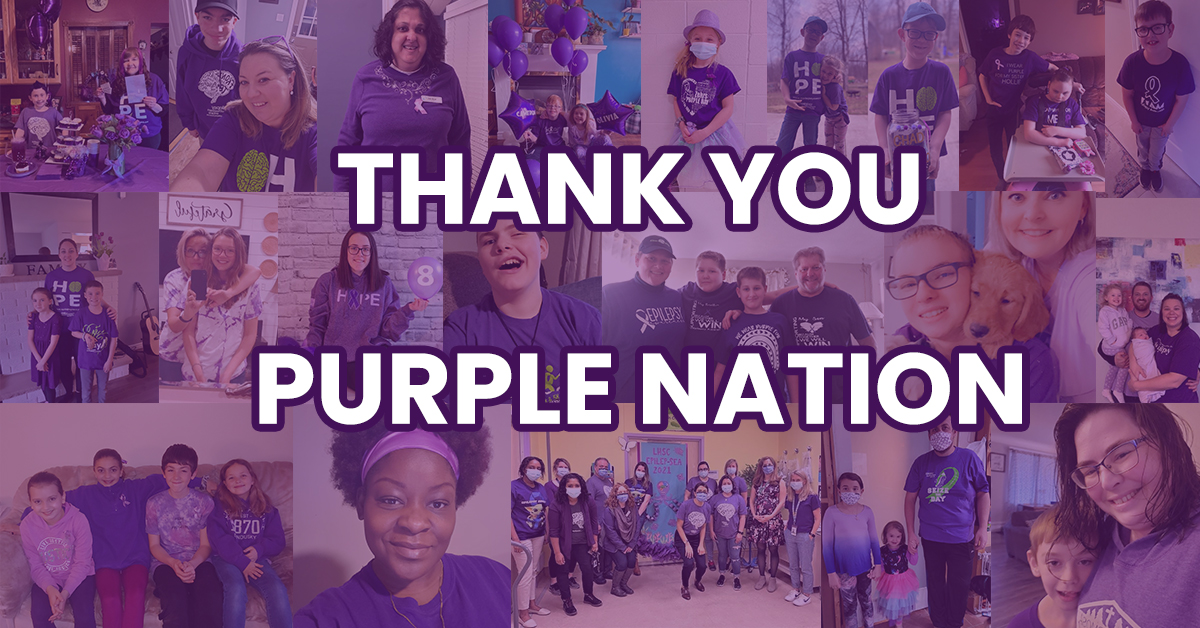 Thank you for an amazing Epilepsy Awareness Month! March 2021, our community came together to raise awareness in lots of new and exciting ways! 
Thank you to everyone who sent in their purple photos, decorated their doors, classrooms, and homes during the month of March. Cori-Anne Bliss Richardson was the lucky winner of our draw for an Epilepsy Awareness Month Prize Pack graciously donated by Little Monkey Workshop.
A huge thank you to Hollie Hartford, John Boersema, Ava Pitre, Karen Bryant, MJ, Silvia Pacheco, David Marton and others who shared their epilepsy journey with us.  We appreciate everyone sharing their stories. If you're interested in sharing, please contact [email protected]
There were so many amazing events and campaigns during Epilepsy Awareness Month such as:
The Purple Pansy Flower Boutique in Chatham sold purple daisies to raise awareness and funds. $612 was donated to ESWO.
Huge thank you to the community of Lady Rosalique on Twitch! They were able to raise $565 for ESWO during their Purple Day Stream
Aaliyah and her sister, Jaida, baked cookies and did an epilepsy fundraiser that raised $400 in donations.
Ava's Fight Against Epilepsy Campaign in the Windsor-Essex region was a huge success this year. She was able to raise $12,740 towards anti-suffocation pillows!
Thank you to everyone who supported and participated in our 1 in 100 challenge. One in 100 people live with epilepsy, so for the month of March we encouraged people to share their 100, while raising $100.
6-year-old Chad collected loonies from family and friends and at his school as his 1 in 100 challenge. His goal was to raise $100. Chad blew that goal out of the water and raised a whopping $1,783.90. Way to go, Chad!
Amelia partnered with Tracy Ferreira Photography for an epilepsy fundraiser with $25 sessions all being donated to ESWO.
Kayson and family sold loads of wine in support of ESWO and donated $2,206!
Little Lulu Photography donated $25 for every session booked throughout the month of March.
Boxcar Donuts in London promoted a purple donut on March 26 and donated the proceeds for a total of $343.80
ESWO would like to take this time to thank all guests, sponsors, donors, and contributors for their support and commitment to making this year's Purple Palooza a success! Our virtual gala was held on March 26 and it was our best year yet, with 150 tickets purchased and approximately $40,500 raised. For more event information, visit: https://epilepsyswo.ca/annual-gala/
Huge thank you to everyone that fundraised or participated in any of these events. If we've missed your initiative, and you would like it to be added to the list above, please send [email protected] an email. We are so grateful for everyone's support and so proud to see the awareness that was established throughout the month.
To view all the purple nation images and events that happened this year, head to our Flickr page. If you have any photos that you haven't yet shared, please send them to [email protected].
We encourage people to continue to spread awareness and share their stories all year long! We can't wait for Epilepsy Awareness Month 2022!