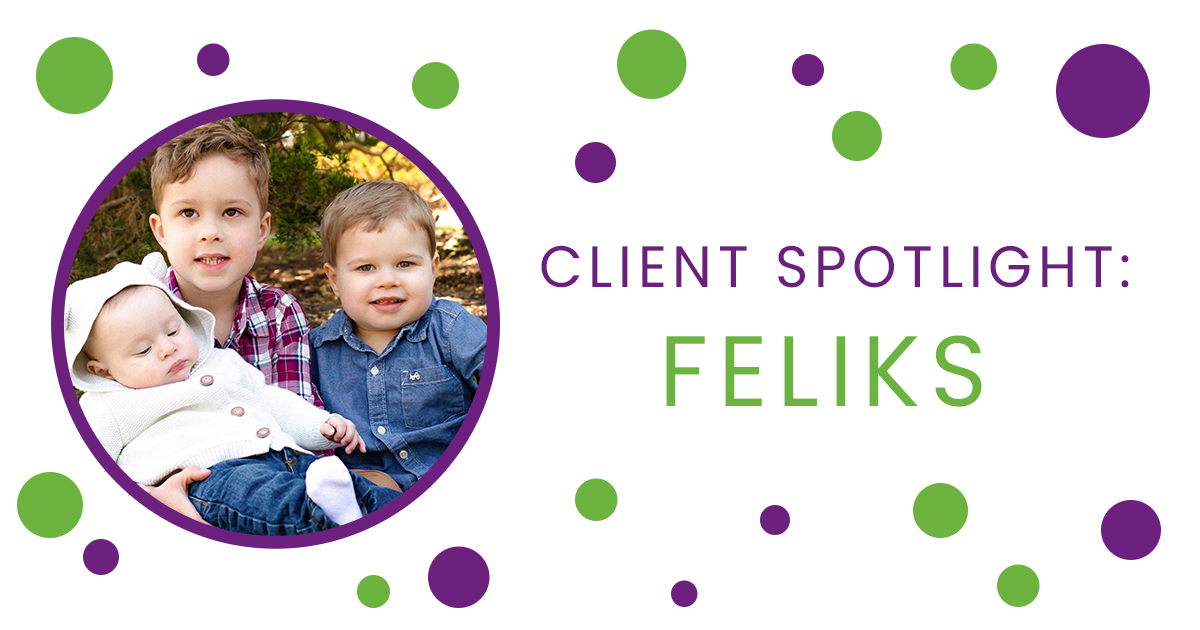 Just before his first birthday, Feliks' parents noticed his head drop. At first, they believed it to be merely from tiredness, but quickly their parental instincts kicked in. This is when they realized this 'drop attack' was his first seizure.
Two-and-a-half-year-old, Feliks, was diagnosed two months after his first birthday with atonic seizures. And since then, has experienced tonic episodes as well.
Feliks' seizures are due to a large lesion, otherwise known as a 'wonky spot', in his left frontal lobe. When experiencing his significant 'drop-attacks', he loses all muscle tone leading him to collapse to the ground, usually headfirst. During these episodes, he loses consciousness but luckily, they are short-lived. When the seizure is mild, his head will either drop down or his face goes a bit droopy.
But Feliks is so much more than his seizures. He is a jumping kid who loves to push buttons! He always looks most forward to any part of the day that involves food, even though he doesn't quite understand how to chew (something his parents on working on). Feliks is also obsessed with his cats, as well as his two brothers. 
Although life is full of great moments, having a son living with epilepsy has been stressful for Feliks' parents, "For us, the overwhelming stress of keeping track of medications (we've tried 6), the number and severity of seizures (especially as we both work full time – our daycare lady is AMAZING!), the fear of it progressing to the point of having to call 911," said Feliks mother Sara. "Also, before he got his helmet, there were many times we didn't catch him fast enough (as there is zero warning), and he'd hit his head on the ground."
Feliks' parents worry their two other sons, one being five and the other recently born, will grow to resent their brother for receiving more of their attention. It is difficult to explain to younger children the reasoning for this, but for the most part, their five-year-old understands it is not his brother's fault. Although it is hard to spread themselves amongst all three boys, Sara explains that they do their best each day.
Having an average of 40 seizures a day at one point and the additional diagnosis of severe autism spectrum disorder (ASD) has made abilities and learning difficult for Feliks. However, having had recent neurosurgery, Feliks' seizure frequency and severity have been significantly impacted positively.
Feliks' parents are grateful they trusted their instincts after seeing Feliks head drop because if they hadn't, it could've taken much longer to get to the place they are today. "As a parent: Feliks' epilepsy has made me more aware of my kid's abilities (and challenges)," explained Sara. "I worry less about traditional milestones now, and just try to meet my little man where he's at while also encouraging the development of new skills."
Shortly after Feliks' diagnosis and discharge from his first hospital stay, his parents were connected with Epilepsy Southwestern Ontario. This became an excellent resource to find information and ask questions about all things Epilepsy. "We're grateful for the amazing community that ESWO has brought into our lives. It is an excellent resource and safe landing zone for parents of littles dealing with seizures of all types," said Sara.
Seeing as epilepsy is a life-long journey, Feliks' parents want to ensure that their son gets to experience life the same as any other kid. "Even though epilepsy is a major condition, and it can be quite scary, kids with epilepsy want to be included in all the fun stuff their peers are doing," said Sara. "Sometimes there just has to be a different plan in place to let things be done safely."