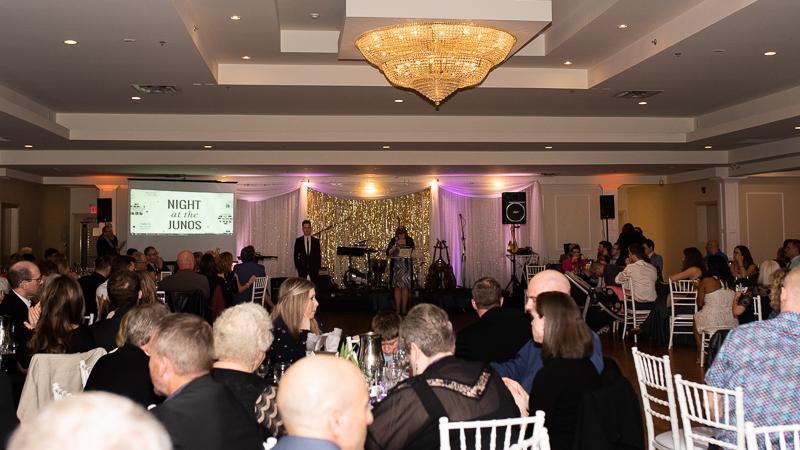 ESWO would like to thank all guests, sponsors, donors and volunteers who participated in our Night at the Junos Gala.
We are sincerely overwhelmed with the continued success of the gala, all of which would not be possible without our sponsor and donors.
Approximately 250 attendees enjoyed this annual event, which included dinner, dancing, live entertainment, and a silent auction. We are happy to announce that we were able to raise approximately $30,000 which will help us to further our mission by providing education and support services.
Our 33rd Annual Gala was hosted at Brookside Banquet Centre on April 6, 2019. ESWO has been presenting a H.O.P.E. award (Helping Out People with Epilepsy) since 2005. Each year, it is awarded to an individual, group of individuals or organization who has demonstrated compassion and caring for people living with epilepsy. We are pleased that this year Dr. Kathy Speechley was chosen to receive the 2019 H.O.P.E. Award. As an epilepsy researcher, champion, donor and advocate her tireless commitment to supporting families with epilepsy makes her a worthy recipient.
Please share you photos by tagging #gala4epilepsy.
Thank you to Little LuLu Photography for the event photos, please go to our Annual Gala page to see the images.
Thank you to the 2019 Gala Committee: Ambrosia Clarke, Ashley Davy, Ashley Marion, Bailey Muscutt, Charmaine Graham, Darlene Williams, Elaine Swan, Josie Swan-Merrison, Karen Lucas, Krista Doyle, Lisa Vercillo, Lynn Shainline, Meg Sundercock and Sarah Keays.
A big thank you to our 2019 sponsors:
In-Kind Supporters:
NJS Design Event & Party Rentals, A & B Print Inc., Platinum Printing, Regency Florists, INPS Group Inc., Kinsmen Club of Greater London, Little Lulu Photography, Bax-Campell Family, Gordons Gold Jewellers and The Original Cakerie
Don't miss next year's event – Save the date: April 4, 2020