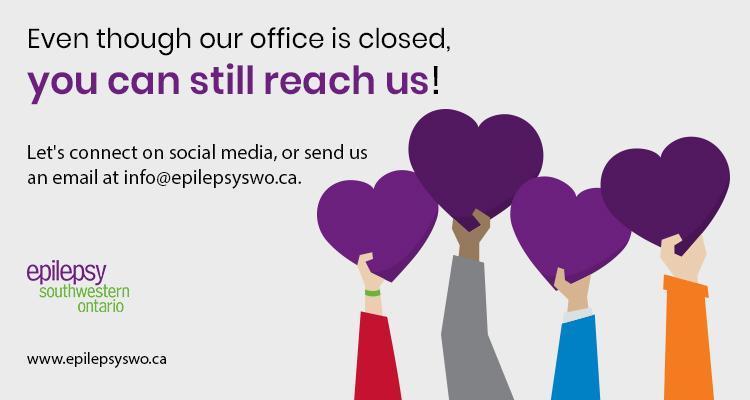 Epilepsy Southwestern Ontario (ESWO) believes it is our social responsibility to do our part to reduce the spread of COVID-19 and will be taking precautions based on the recommendations of Public Health Agency of Canada and World Health Organization to practice social distancing whenever feasible:
Virtual Work Spaces
Our team will be working from home for the next while, which means our office will be closed. However, we will be accessible by email as always.
Programming Suspended
We have adapted our services to include:
online education sessions both individually or for families, to empower you with the knowledge you need to know about living with epilepsy
virtual professional development sessions for teams supporting people living with epilepsy or inclusive workplaces
Supportive telephone conversations for those looking for support services
an extension of our Wacky Wednesday summer camp featuring activities, stories, special guests etc., every Wednesday at 2:00 p.m.
a webinar series with local physicians and professionals working in the field of epilepsy 
Coming soon:
virtual version of our YEP! program 
online support groups
virtual fundraiser (ideas welcome!)
Epilepsy Awareness Month
Epilepsy Awareness Month gatherings have been cancelled. We have extended the Purple Door Campaign until April 10th, in order to allow schools to participate.
Annual Spring Gala Postponed
As the COVID-19 pandemic continues to evolve, it is becoming apparent that our original date for the gala would not be possible. As a direct result, our 34th Annual Spring Gala has now been postponed until November 6, 2020.
Join us down the rabbit hole on our NEW DATE to enjoy entertainment, a delicious chef-catered dinner, silent auction, and recognition of our H.O.P.E. award recipient, The Oke Family. 
Where: Brookside Banquet Centre, 99 Brookside St, London
When: Friday, November 6, 2020 – 6:00 p.m. – 1:00 a.m.
Tickets: $125/per person or save 5% when you purchase 8+ tickets
Payment: Purchase online, through cheque made payable to 'Epilepsy Southwestern Ontario' or by calling 519.433.4073
*Regrettably, the ticket price has increased to $125. As you may know, we have not increased the cost to attend since 2011 (despite our event costs increasing yearly). In an effort to offset this increase, we are offering a 5% discount on the purchase of 8 or more tickets.
To become an event sponsor or contribute to the silent auction, please contact Michelle at [email protected]
If you have already purchased your ticket and cannot attend on Friday, November 6, 2020, you have the following options:
Request a refund for the value of your tickets by calling the office at 519.433.4073 or emailing 

[email protected]

Consider donating the value of your ticket(s) back to ESWO for a charitable donation receipt.
We apologize for any inconvenience and appreciate your understanding.