Give someone the #GiftofHope this Giving Tuesday
We're putting our own spin on Giving Tuesday with the #GIFTOFHOPE, a special fundraiser that empowers you to to help support the 1 in 100 people living with epilepsy throughout Southwestern Ontario this holiday season and beyond.
What is Giving Tuesday?
GivingTuesday is a day when charities, families, businesses, and communities around the world come together for one common purpose: to celebrate generosity and to give. Following Black Friday and Cyber Monday, it is meant to unofficially "open the giving season".
GivingTuesday at ESWO
Epilepsy Southwestern Ontario is asking the community to consider the #GIFTOFHOPE, through a monthly donation. Small, affordable monthly donations can make real long-term impact. Whether that's $5 or $50 per month, every single dollar helps us remain accessible to individuals living with epilepsy. Every gift, no matter the size, makes a difference!
Community makes the difference between living with epilepsy & thriving with epilepsy.
ESWO's services are free and without government funding; we rely heavily on fundraising efforts, donations and assistance from the community to provide support, information and education to individuals and families affected by epilepsy.
Other ways to get involved:
Make a one time donation. Do you know 100 people? Then you know someone with epilepsy. Donate now to help break down the stigma.
Share our fundraising page or epilepsy information with family and friends. Help to spread awareness.
Visit our holiday giving page and give back in other ways.
This year, please consider making a donation to improve the lives of people living with epilepsy. Give the gift that keeps on giving.
What will I receive as a monthly donor?
You deserve to know how your generosity is making an impact, so we will send you regular communication. By becoming a monthly donor, we will put you on an exclusive newsletter list where you will receive updates on how your donation has made an impact that month. Find out what staff have been up to, read client stories, and get general information about ESWO.
Your monthly donation will help with these services/programs:
ESWO's services are free to clients. Your commitment to a monthly donation will help to support the following;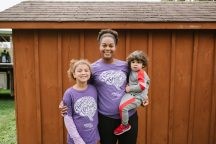 Support Services
Educators meet with individuals living with epilepsy and their families following diagnosis to provide information about their specific seizures, seizure first aid and general epilepsy information. By providing a network of support services, we aim to help everyone in the family live well with a diagnosis. Clients can get their questions answered and with a better understanding of their diagnosis, they're less likely to depend on the Emergency Room for support.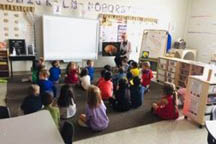 Public Education
Student support has been identified as one of the highest needs of parents who have children living with epilepsy. Improving a child's school experience through education and support is a top priority for parents. ESWO staff provide teacher training, school safety plans and classroom presentations to help ensure children are safe at school, to reduce myths and stigma from classmates, and to develop learning strategies.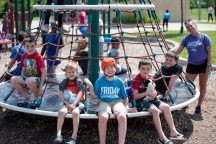 Purple Nation Summer Camp
Our Summer Camp is designed for children living with epilepsy and their siblings aged 4-12. Our children's programming is designed to support the unique physical, learning, emotional and behavioural needs of children living with seizures. The use of trained one-on-one volunteers provide reassurance for parents and caregivers that their children are safe should they experience a seizure at camp. Our camps offer an inclusive environment where helmets and seizures are simply no big deal and kids can just be kids.