Purple Palooza
March 26, 2021 @ 6:30 PM

-

8:30 PM

EDT
Event Navigation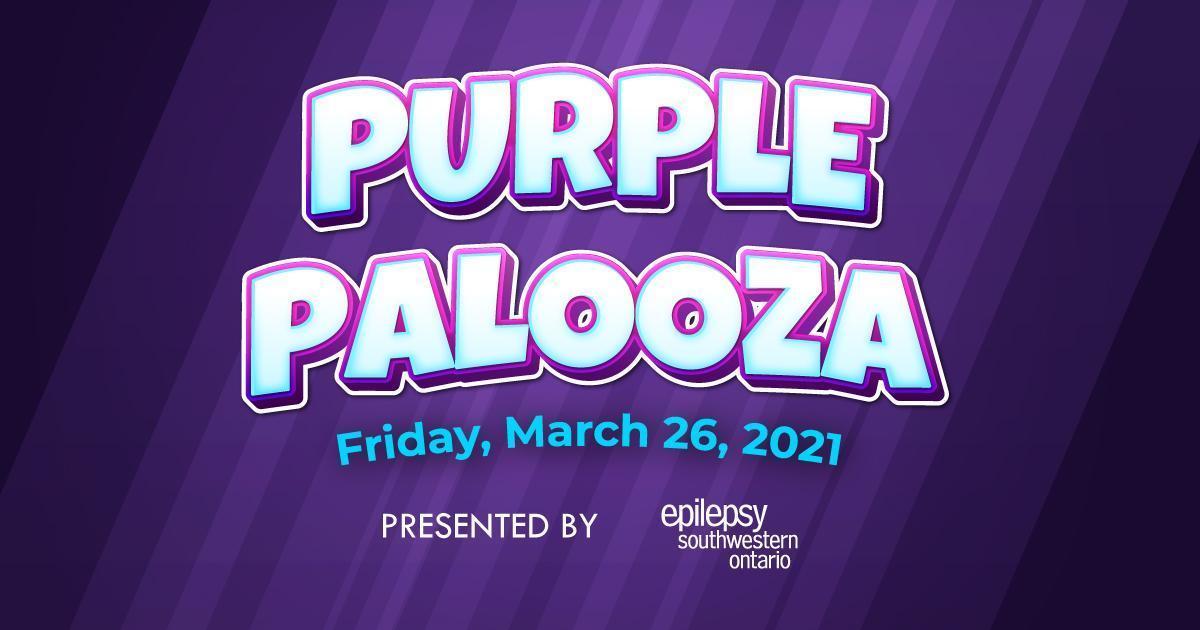 Although we decided to postpone the gala in 2020 to the fall in hopes of being able to host in person, we have decided to resume our regular spring timeframe for our 35th Annual Gala and plan for a VIRTUAL event, raising funds and epilepsy awareness from the comfort of our homes!
New this year, we will host our Spring Gala on March 26, 2021, which is recognized as National Purple Day. Purple Day is dedicated to spreading epilepsy awareness and was established several years ago by nine-year-old Cassidy Megan, who will join us as a guest speaker. Cassidy wanted everyone living with epilepsy to know they were not alone, which makes Purple Day the perfect day to celebrate by hosting our second virtual gala.
On Friday, March 26 from 6:30 – 8:30 pm, you are invited to join us live virtually for our Purple Palooza! Take this opportunity to celebrate March Epilepsy Awareness month, wear your purple, order from one of our dinner partners, and show your support for individuals and families affected by epilepsy across our community! Our goal is to raise $35,000 to help support our Public Education Programs throughout Southwestern Ontario, and we truly need your support!
Where: The comfort of your own home.
When: Friday, March 26, 2021 from 6:30pm – 8:30pm.
Tickets: $25/household, includes live entertainment and digital swag bags.
Payment: Purchase online, through cheque made payable to 'Epilepsy Southwestern Ontario', by calling 519-433-4073 or by e-transfer to [email protected] and emailing [email protected] to let us know who you're paying for.
Virtual Silent Auction
Auction opens: Friday, March 19 at 12:00 noon
Auction closes: Gala Night! Friday, March 26 at 9:00 pm
This year's silent auction will be brought to you at home. Bid on a number of exciting items including gift baskets, golf packages, family outings, and more.
The link to view items will be updated shortly. Silent auction items will need to be picked up at the ESWO head office.
Mystery Booze Auction
If you've been to Epilepsy Southwestern Ontario's Gala in person, then you're familiar with our wine pull! This year, we've added a fun twist to our virtual 'pull' as part of our Purple Palooza Gala – included this year is wine AND booze. Pick out your mystery number and select "BUY NOW" to purchase the corresponding bottle. $20 per bottle. 19+ to purchase. You could win anything from the photo to the left! Our team member Bailey will email you following the event to share what wine/alcohol bottle you've won.
Thank you to our amazing supporters: Coopers Hawk Winery, Frisky Beaver, Peller Estates, Wellington Brewery, Equals Brewery, Blackly, Lisa Jorgensen, Elaine Swan, Susan Pushelberg, Tom Stadnisky, Meaghan Lee, Karen Lucas, Tabitha Cook, Krista Doyle, Sharron Berry Ross, Katelynn Thibert, Josie Swan-Merrison, Melissa Pushelberg, Greg & Michelle Franklin, Brian Tschirsow, Rheault Distillery, and Lynn Shainline.
Macbook Air Raffle
Working from home? Kids online learning? Buy a raffle ticket for a chance to win a new Apple MacBook Air! 13.3″ w/ touch ID (2020) Value $2300. Tickets: $25, available until March 25. Big thank you to Festival City Glass & Tint for sponsoring!
The winner will be announced LIVE during our Purple Palooza event!
Contact [email protected] to purchase your tickets.
Host Nick Paparella
We are very excited to introduce Nick Paparella as our honourary host for our ESWO Virtual Gala!
Nick is the longest serving News Reporter at CTV News London.
Nick has been married to his high-school sweetheart Evelyn for more than 30 years. They have three very active and happy adult sons. Among his many interests, Nick supports several charities and community organizations with his time.
Virtual Magician
Keith Brown
Keith Brown is a world-class VIP entertainer and keynote speaker. He has inspired wonder in over 22 countries & counting. He was chosen Toronto's BEST Magician and he's not even from Toronto… Most recently, Keith performed for the President and First Lady of Iceland. When he's not touring his show or entertaining at private events Keith trains Ivey MBAs & business executives in effective communication and high impact presentation skills.
"Very Entertaining" – Eliza Reid, First Lady of Iceland
"You're Incredible!" – Dave Grohl, Foo Fighters
"WOW!" – Joe Thornton, San Jose Sharks
Special Guest Speaker
Cassidy Megan, Founder of Purple Day for Epilepsy
Cassidy started Purple Day several years ago when she was just nine years old to raise awareness for people with epilepsy and to let them know that they aren't alone.
Today, Purple Day is celebrated all around the world in over 100 countries. You can show your support by wearing purple on March 26th every year and taking part in activities in your community.
H.O.P.E. Award Recipient
Every year at our gala we present a H.O.P.E. award (Helping out People with Epilepsy) to a person, group of people or organization who has shown great care and compassion and made a difference in the lives of people living with epilepsy. Techdoz has allowed Epilepsy Southwestern Ontario (ESWO) to remain current and thrive in an ever changing technological world. With the in-kind support of Techdoz, the professionalism of ESWO online events have been enhanced, and client support has been made more accessible. Their staff team works tirelessly to provide prompt knowledge and expertise, addressing any technical difficulties that arise. On behalf of ESWO, thank you, Techdoz for your continuous sponsorship and support.
Music Bingo
Interactive Game
Wake Me Up Before You Go-Go, What's Love Got To Do With It, Happy from Despicable Me, Call Me Maybe… what do all these songs have in common? They might just be the square you need to win during our live music bingo game! Music Bingo ran by Team Trivia.
Dinner Partners
We have collaborated with two local restaurants for you to bring home your favourite food to enjoy while you tune in! Order and pick up your dinner option with either partner listed below.
Palasad
London, ON
Support ESWO by ordering contactless pickup at either Palasad location. For every pick up order over $25, Palasad will donate $10 to ESWO. Further order details to come.
Oven 360
Chatham, Windsor, Emeryville, LaSalle, Leamington & Sarnia, ON
Order a pizza or panini for pickup at any of the Oven 360 locations and ESWO will receive a 20% kickback. Available for PICKUP ONLY.
Kickback does not apply if using a delivery service such as Uber Eats. You MUST include a note in your online order that it is for the ESWO gala or mention the ESWO gala to the cashier at the time of pickup for a kickback to be received.
Please note, since it's a Friday night, please order early.
Become a Sponsor
To become an event sponsor or to contribute to our silent auction, please contact [email protected]
Check back for regular updates, we can't wait to see you then!
Our Generous and Valued Contributors
Pre-Party Sponsor:
Entertainment Sponsors:
Oke Woodsmith Building Systems has shared a promotional video for you to watch and learn more about them and what they do.
Gala Participant:
Hope Sponsors:
Purple Sponsors:
BlueStone Properties
Hyde Construction Limited
Elgin Contracting and Restoration Ltd.
Wayne and Harold Smith Construction Ltd.
Technology Supporter: